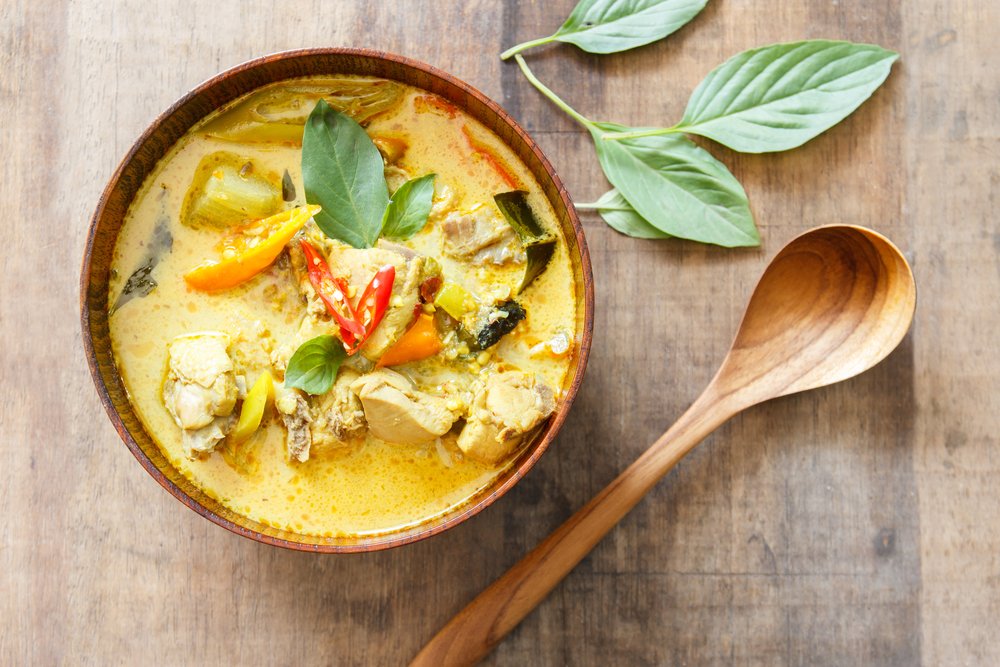 2 chicken fillets (175-200g each)
1 tin of coconut milk (use coconut cream for a richer taste)
30g of green curry paste
1 Lemongrass split down centre
1/4 bulb garlic finely chopped
½ thumb ginger (grated)
1 lime leaves
1 tsp fish sauce (optional)
1/2 head of broccoli
1/2 medium courgette
1 medium onion
100g mangtout
10ml of rapeseed oil
1/4 bunch chopped coriander
300g cooked basmati rice
200ml chicken stock
In a thick bottomed pre heated pan seal the diced chicken fillets in a little oil until browned on all sides, remove from pan and save any juices with the chicken.
Cut the vegetables into chunky pieces.
Place the same pan on a medium heat; add the oil and sweat the garlic, ginger and onion until it begins to brown, then the curry paste, lime leaves and lemon grass. Cook until you can smell the flavours of the paste, usually about two minutes. Add the chicken stock, followed by chicken and juices from the chicken then add chopped vegetables and the coconut milk and simmer until the chicken is cooked approx. 10 mins.
Adjust seasoning, add fish sauce at this stage if desired
Serve on a bed of steaming hot basmati rice.
Bon Appetite!