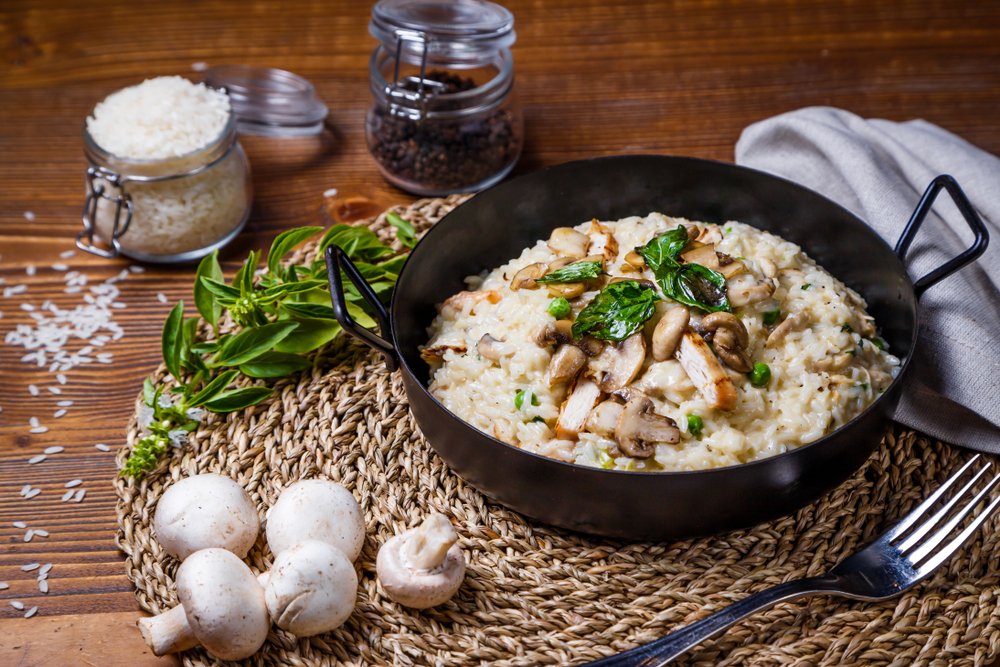 4 1/2 cups chicken stock
2 teaspoons butter
1 cup finely chopped onion or shallot
1 cup arborio rice
1 sprig fresh thyme chopped fine
1 sprig fresh rosemary chopped fine
1 bay leaf
2 teaspoons olive oil
200gr assorted wild mushrooms (oyster, stemmed portobello and stemmed shiitake), sliced
1 garlic clove, minced
2 tablespoons chopped fresh Italian parsley
30gr diced butter (room temperature)
30gr grated parmesan
Bring chicken stock to boil in heavy medium saucepan. Remove from heat, cover and set aside.
Melt 2 teaspoons butter in large thick bottomed pan over low heat. Add onion and sauté until translucent, about 5 minutes. Add arborio rice, thyme, rosemary & bay leaf and 2 cups warm chicken stock; bring mixture to boil. Reduce heat and simmer until most of stock is absorbed, stirring frequently, about 5 minutes. Add remaining stock 1/2 cup at a time, allowing stock to be absorbed before adding more and stirring frequently until the rice is almost cooked, about 15-20 minutes.
Meanwhile, heat oil in another large thick bottomed pan over high heat. Add mushrooms; sauté until beginning to brown, about 3 minutes. Stir in garlic. Reduce heat to medium; cover and cook until mushrooms are tender, stirring occasionally, about 3 minutes. Transfer to rice mixture, add parsley. Remove from heat, add butter and grate parmesan at room temperature and mix with wooden spoon until smooth. Season with salt and pepper. Spoon risotto into bowls and serve immediately.